Leading Ribbon Blender Mixer Manufacturers, Supplier & Exporter in Kenya
Keeping the diverse requirements of customers in mind, we are the major suppliers, exporters and manufacturer of Ribbon Blender Mixer to the valued customer who flourished across Kenya and the major cities like Kisumu, Nakuru, Nairobi, Kampala, Uganda, Mombasa, Mogadishu, Rwanda, Burundi and the like. At Arvinda Blenders the ribbon blender mixer are being manufactured in number of variety for example Powder Mixer Blender, Nauta Mixer, Food Powder Mixer and other blenders mixers to meet the customers' requirements hand in hand our engineers are well informed to monitor the blenders mixers that are being manufactured by us.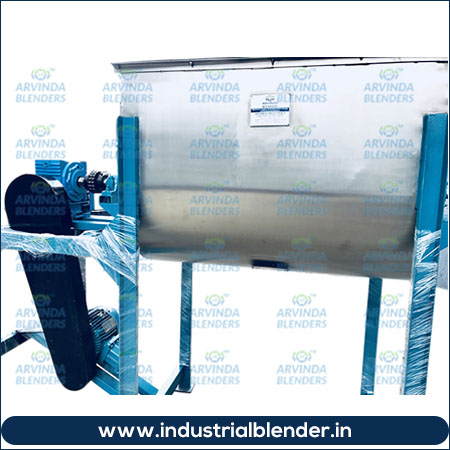 Our Powder Mixer Blender has a vital role in the development and manufacture of pharmaceutical products. In order to formulate certain necessary dosage for patient, pharmaceutical powder mixers must be able to mix and blend active ingredients with the utmost precision. Moreover, most pharmaceutical manufacturing process must be closely controlled so that it does not negatively impact the active ingredients. Inferior mixing equipment may result in inadequate blend uniformity or segregation. With this in mind the precise pharmaceutical powder mixing is imperative in order to ensure the health and safety of consumers. With powder mixer blender for pharmaceutical manufacturers find state-of-the-art mixing technology matched with comprehensive validation and regulatory expertise.
We are leading manufacturer, supplier and exporters to manufacture the varied range of Nauta Mixer which is superiorly utilized in divergent industries for precisely and quickly mixing the materials like granules, wet suspensions, pastes, and powder. Our company manufactures this mixer range cautiously by making use of optimum grade stainless steel and carbon steel along with the execution of sophisticated technologies ensuring excellent mixing outcomes and full discharge. As per the industrial processing requirement, this mixer can be incorporated with high speed cutting rotors and agitators. Our offered mixers are integrated with spiral mixing tools, which give three-dimensional flow to the mixing materials by generating spiral upward motion on the periphery and downward flow in the center. Our engineers has built the Nuata Mixer with salient features like quick material mixing, homogenous and equipped with single top bearing to ensure excellent mixing device driving with the approximate average capacity of 5000 liter to 25000 liters also. The Nauta Mixer design is studios and easy to clean.
We are a leading, supplier, exporter and Manufacturer of Food Powder Mixer machine from Kenya, South Africa. Our blenders' mixers are synonym for optimum mixing technology and over the course of its continuous further development it has become a synonym for optimum mixing technology. Our engineers has lavish expertise with outstanding feature of the intensive mixer is that it separates the transportation of the mix from the actual mixing process to meet customers' requirements.
Our experts take seriously our responsibility to help bring pharmaceuticals to market that can save and improve lives. We also imported to leading countries in USA, UAE, Germany, New Zealand, India, and many more.