Ribbon Mixer Manufacturer in Andhra Pradesh
Arvinda Blenders are supplying quality assured product of mixer blenders where we have satisfied customers from Andhra Pradesh, India major cities like Amaravati, Vijayawada, Visakhapatnam (Vizag), Nellore, Guntur, Kurnool etc. are using our mixer blenders where our experts had installed in their esteemed company. With the use of sophisticated machines and equipments installed in our manufacturing unit, we also manufacture Ribbon Blender, Pharmaceutical Blender, Paint Mixer Machine and the like for our esteem customers. We are considered to be the leading supplier of Paint Mixer Machine in Andhra Pradesh. Paint mixer machine are used in household industry, veneer materials, for mixing paints. The machine has water driven inclining framework is given finished force pack, electric engine, pressure valves, pipes, fittings, chambers and hoses which makes the inclining instrument brisk, simple and easy to work.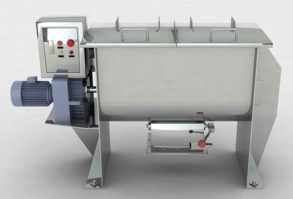 Our company provides Pharmaceutical Blender of variety of blender for example octagonal, mass, V-Type, Double Cone Blender, Vertical Blenders and the like. These blenders are easy to maintain and operate. Also features like easy and cleaning and has manual rotation system where users will be able use in user friendly environment.
We manufacture and supply many type of Ribbon Blender Machine for various industries in India and also around the world. Ribbon blender has a U-shaped horizontal trough containing with double helical ribbon agitator that rotates within. In the machine the agitator's shaft is positioned in the middle of the trough and has welded spokes on which the helical ribbons (also known as spirals) are welded. Where the ribbon agitator has a set of inner and outer helical ribbons, it is referred to as a "double" helical ribbon agitator.  It comes with a gap where in between the ribbon outer edge is and the internal wall of the container ranges are varied depending on the application. Its body material used is stainless steel and is powered with electricity with average voltage of 415-440 V with 50Hz frequency.
Our team with remarkable expertise are designing industrial paint mixer machine according to the requirements to meet demands for manufacturing the efficient paint mixer machine by our reputed clients. We also export a number spectrum of paint mixer machines to our counterpart countries and states. Today we rank in leading paint mixer machine manufacturers in India since mixer machines are well equipped and fully featured produced with international quality standards. The paint mixer machine manufactured by us is quilted and safety measures are taken with great care by our engineers.
In Andhra Pradesh our company manufacture blender mixer for leading companies for example pharmaceuticals, cosmetics, fertilizer, chemical and the like with assured quality and safety.