Leading Ribbon Blender Mixer Manufacturers, Wholesaler, Distributors, Supplier, Exporter in Germany
We are famous wholesale supplier of Ribbon Blender in Germany that is designed in accordance with the set industrial norms to satisfy the needs of the customers. Our offered range of blenders' mixers is in studios look and accessible in advance designs. We are considered to be the leading supplier of major cities in Germany like Berlin, Cologne, Dortmund, Manheim and the like. Moreover, our blenders' mixers are durable and are polished to give them an attractive look. With stainless steel built in the ribbon blender have longer working life.  These blender mixers are designed and fabricated by our experts using premium quality plastic and other related materials with the aid of advanced technology in compliance with set industry standards.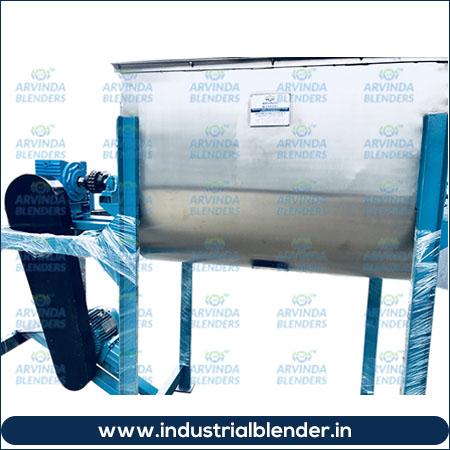 At Arvinda Blenders we have international and domestic customers and our blender's mixer are manufacturing blenders' mixers machine for pharmaceuticals, cosmetics, fertilizer, chemical and the like with assured quality and safety. Mentioned here our company manufactures ribbon mixers from both mild and stainless steel. The materials of construction will depend upon the ingredients that are being mixed and the how those ingredients are going to be used. For example, if food-grade ingredients, the mixer should be stainless steel with special finishes so that it can be easily cleaned and sanitized. If the ingredients are corrosive, then stainless steel would also be a good choice, since mild steel would be dissolved by the ingredients over time. However, your materials or process may require other materials or finishes. If your materials are not susceptible to food borne illnesses, these finishes might not be necessary. The area of the exterior of the mixer or non-contact areas of the mixer can be made from mild steel and painted. The interior of the mixer is usually not painted, since it could contaminate the ingredients being mixed. A mixer can also be lined with a material to enhance its performance. This is typically seen when a material is abrasive and would prematurely wear out the interior parts. Or, if you are working with corrosive materials, another finish may be required. Your ribbon mixer can be customized with a range of materials, finishes and paint to suit your facility. We manufacture blenders' mixer with materials like weld, paint or epoxy and stainless steel which is of food grade.
We have the most impressive ribbon blender manufacture with years of experience and constant improving skilled makers of ribbon blender that stand out where the salient features also we supply manufacturing blenders' mixers machine for pharmaceuticals, cosmetics, fertilizer, chemical and the like with assured quality and safety. Our experts serve our customers with satisfactory delivery services.