Ribbon Blender Manufacturer & RIbbon Mixer Manufacturer
"Arvinda blenders" offers a wide assortment of Ribbon Blender that are created by specialists utilizing cutting-edge technology and are widely accepted by valued customers. We have reached Ahmedabad and most of India in a short period of time by providing them with the most appropriate products. We also give customised solutions based on the needs of the client.
Ribbon Blender is a wide range of industrial mixers that we manufacture. There are several models available, ranging from lab to heavy-duty. These are the best dry powder mixing products with the best results and the lowest cost. With a working capacity of 5 to 10,000 litres, this mixer is constructed in a U shape.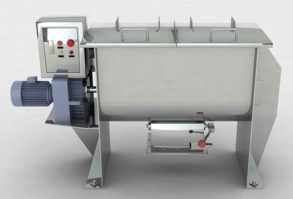 Note** Dry and bulk solids are mixed in them. Ribbon-like paddles move around a central axis in these blenders. These are useful for eliminating moisture-induced lumps and are widely used in the food and beverage industries. These blenders are also used in the plastic resins and fertiliser industries.